Casing Bushing
General
Casing bushings are cast from high quality alloy steel, heat treated to provide maximum strength and durability. Casing bushings can be installed directly into the rotary table and allow casing string to be rotated during cementing operations. The casing string is aligned with the center of the hole while the string is being run. CUL casing bushings are solid body bushings designed for 17½" to 27½" rotary tables and can accommodate up to 20" tubular goods. CB casing bushings are split body bushings designed to fit directly into 49½" to 22" rotary tables.
Insert bowls are used to accommodate various dimensions casings, thus, one bushing can be used to run multiple casing sizes by interchangeable bowls.
CUL and CB casing bushings are rated working load 500 ton and are designed with 4 tapers.
Used with CMS-XL Slips, casing bushings can handle the longest casing strings currently being set. Also, since these bushings fit into the rotary table, the casing string can be rotated during cementing operations.
Most specification of Casings Bushings used in China
Rotary

table size

Casing bushings

models

Casing dimensions

2⅜-8⅝

9⅝-10¾

11¾-13⅜

16

18⅝-20

26 or 27½

CUL

body 3103+insert bowl

3105+bowl 1809

body 3103+insert

bowl 3105+bowl 1902

body 3103+insert

bowl 3105

body 3103+insert

bowl 3104

body

3103

27½

CB

body 6695+insert bowl

6126+insert bowl 6115

body 6695+insert bowl

6126+insert bowl 6114

body 6695+insert

bowl 6126

body 6695+insert

bowl 6127

body

6695

37½ or 49½

body 10187+insert bowl

6126+insert bowl 6115

body 10187+insert bowl

6126+insert bowl 6114

body 10187+insert

bowl 6126

body 10187+insert

bowl 6127

body

10187
Product photo of Casing Bushings
| | |
| --- | --- |
| Cul casing bushing | CB casing bushing |
| | |
Casing bushings are available as follows:
CUL casing bushing with dimension 18⅝"-20" with no. 3103 for 27½" rotary table and CUL casing bushing 10187, CB casing bushings with dimension 18⅝"-20" with no. 6695
API Inset bowls for Casings Bushings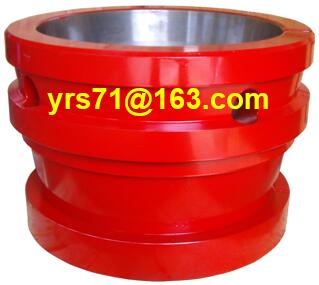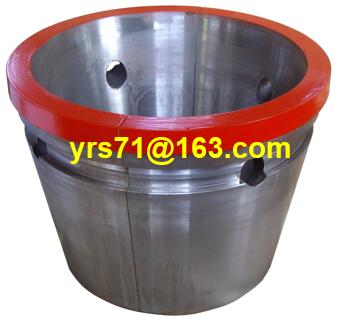 API Inset bowls are available with no 6126